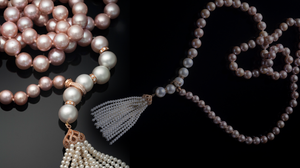 Your exclusive luxury jeweller for one of a kind fine gems
Our customers know that the best jewellery goes beyond simply buying expensive gems.

Elegant jewellery also means originality, uniqueness and above all
must reflect the personality and style of the person wearing it.

You'll always find that perfect gem, as a gift for someone you love... or just as a present to yourself.
...
Whether you're looking for a new piece of jewellery for a birthday, and anniversary, or a holiday celebration - you can always depend on our wide array of unique, ready to wear Rings, Earings, Bracelets, Brooches, Cufflinks, Necklace, Pearls, and Estate Jewellery to find the perfect gift.
When you think the occasion requires a custom design, we'll turn your ideas into a perfect personal piece or maybe you prefer to redesign and modernize a family heirloom for an upcoming wedding, engagement, prom or party to celebrate a milestone.

For over 60 years, our unique pieces have helped you memorialize a new job, honour a well-deserved retirement, reward a graduation, bless a new family addition... or just tell someone, "I love you!"
ABOUT US
Secrett Jewel Salon was founded by Victor Secrett in 1957, and our first store was located, at Avenue Road and Bloor Street, in The Park Plaza Hotel, in downtown Toronto. Victor had fallen in love with gemstones while living and working as a pilot in Rio de Janeiro. On his return to Canada, he started importing the best, fine gems from Brazil for both retail and custom jewellery. His colourful designs and personal style struck a chord with Toronto's fashionable High-Society.
Our current owner and designer, Terry Wilson, has been part of Secrett for the last 48 years.
Secrett Jewel Salon offers all the services of a fine jeweller such as, repairs, ring sizing, jewellery appraisals and necklace stringing.